---
Greg Costikyan
I've been doing games for a long time. I've designed more than 30 of them, from tabletop to PC, mobile and online Here's some things I've been involved with recently.
Along with Dan Gelber and Eric Goldberg, I designed the original Paranoia tabletop game, thirty years ago. We licensed Cyanide Studios to develop a CRPG based on our tabletop game. The tabletop game has been in print almost continually since first publication, with editions designed by Allen Varney and James Wallis. Ken Rolston and Paul Murphy were also involved.
Cyanide contracted with Black Shamrock, an Irish developer, to produce the game, and I flew out to sit with the team for a week, and fully immerse them in the Paranoia mindset. (And hey, some time in Dublin, not complaining.) It's looking pretty good, and I think it won't suck. I don't tend to be effervescent, and Eric says that "not sucking" is Gregspeak for "pretty good."
Publication date is still TBA.
I also spent some time consulting, mostly on the game economy, to Romero Games on Empire of Sin. This is very much Brenda's game, but I hope I had some impact.
In related news, there have been recent editions of Paranoia in French, German, and Korean; the Japanese edition is selling amazingly well. Spanish, Portuguese, and Italian editions are under negotiation.
====
In recent years, I've worked for Backflip Studios, Boss Fight Entertainment, Loot Drop, and Disney Interactive, mostly in a lead design role. The MIT Press published my book Uncertainty in Games in 2013. I've designed more than 30 commercially published board, roleplaying, computer, online, mobile, and social network games; my ludography is here. In 2007, I received the Maverick Award at GDC for "tireless promotion of indie games;" I've also won five Origins Awards, and am an inductee into the Adventure Gaming Hall of Fame. And I've written several published sf/f novels and stories; many links through sub-pages.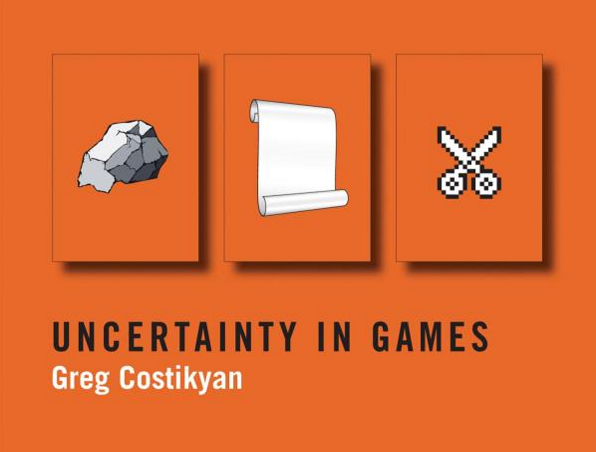 The MIT Press published my book Uncertainty in Games in 2013; unlike most books on game design, it does not cover the whole discipline, but instead goes deep on one particular aspect of games, the role uncertainty plays in making them interesting to play. You can find more about it here.



Some of the More Interesting Things Here
And lots more content available by browsing the menu-bar links.










---
Copyright © 1995-2019 by Greg Costikyan.